Grand Erie board to provide updates on potential labour strife
5 min read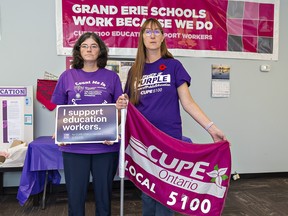 Article content
The Grand Erie District School Board is advising parents to monitor the board's website for the latest information on a possible withdrawal of services by education workers on Friday.
Article content
"We acknowledge the impact this uncertainty has on families," the board said in a posted message to students and their families. "The situation continues to evolve, and we will provide further updates as information becomes available."
On Tuesday afternoon, the board said that, if a full withdrawal of services takes place on Friday, students will move to independent remote learning activities.
Additionally, the board said that before and after school programs will be suspended, while child-are programs that operate with their own custodial services will continue.
In Grand Erie, which includes Brantford and Brant, Norfolk and Haldimand counties, CUPE represents 920 workers, including educational and communicative disorder assistants, food technicians, school and central board clerical staff, library technicians, and information technology, custodial and maintenance staff.
Article content
Meantime, the Brant Haldimand Norfolk Catholic District School Board said CUPE represents none of its workers.
So, any job action "will not impact the daily routine of our students, their academic program, school events or transportation," Rick Petrella, chair of the Catholic board, said in a message to families.
The provincial government has introduced legislation to prevent the 55,000 members of the Canadian Union of Public Employees from carrying through on their promise to strike Friday if a contract agreement had not been reached.
The government said it would impose a contract on workers and impose fines for violating a ban on strikes for the life of the agreement.
The union responded by announcing that members will hold a demonstration on Friday instead.
Article content
"They could solve all this with money," said Sarah Kuva, president of CUPE Local 5100 in Brantford.
"They just paid parents $200 to $250 depending on their student, for tutoring with no requirement to provide receipts. That money could have paid for the first year of everything we were asking for in our contract."
She said the government's offer contains low wage increases, removal of job security language, cuts to sick leave and short-term disability access and no prep time.
Kuva stressed that the local union has no beefs with the Grand Erie board, with whom Local 5100 has been negotiating a local contract for the past two months.
Robin Sweers, communications chair for the Ontario School Board Council of Unions and an educational assistant at Pauline Johnson Collegiate since 1999, said a Ministry of Labour report showed that EAs topped the list of injured workers in the province, more than police officers and correctional services workers
Article content
"People are bit, scratched, given concussions, have furniture thrown at them," said Sweers, adding that EAs "wear helmets, arm guards and protective vests to work in a school."
A third-generation labour activist, Sweers denounced the provincial government's actions.
"That's not what people have fought for," she said. "For hundreds of years labour unions have fought for their workers to have a right to collective bargaining and to have their voices heard. In one fell swoop the Doug Ford government has taken all that away, from a predominantly female workforce."
Kuva noted that 70 per cent of Local 5100 members are women earning an average income of less than $39,000.
"It is astounding how many members have to work second, and sometimes third jobs," she said. "Our people love the jobs they do and make the system work.
Article content
"The disrespect and what has been done by this legislation being put on the table and seeing MPPs stand up and clap for basically harming some of the lowest paid workers in the education sector was very disheartening to watch."
The government had been offering raises of two per cent a year for workers making less than $40,000 and 1.25 per cent for all others, but Education Minister Stephen Lecce said the new, imposed four-year deal would give 2.5 per cent annual raises to workers making less than $43,000 and 1.5 per cent raises for all others.
CUPE has said its workers, who make on average $39,000 a year, are generally the lowest paid in schools and it has been seeking annual salary increases of 11.7 per cent.
There was also a hint of movement at the bargaining table Tuesday.
CUPE said it was at the table and would be proposing a counter offer.
The government said it would also meet if the mediator asks their side to return, and wants to hear if CUPE's new offer is "reasonable."
More than 96 per cent of CUPE's education worker members voted in favour of a strike.
With files from Postmedia and Canadian Press
link