Relaunching the NC State Website
4 min read
A new version of the NC State core website — ncsu.edu — is live. This is the first full-fledged redesign of ncsu.edu since 2013, and it's intended to make it easier than ever for users to find the content they care about. (Behind the scenes, it's now simpler to curate and update that content, too.)
For internal users, the site offers clearer paths to the things you need as you go about your day. We've refreshed our dedicated pages for current students, faculty and staff, and parents and families, to focus on the tools and resources each group uses most.
For external users, the new site offers more ways to learn about NC State and make a college decision, including six new "Discover" pages: Majors and Careers, Admissions and Aid, Campus Life, Spirit and Traditions, Athletics and Raleigh, N.C.
Since 2019, most colleges and many units across campus have adopted the bespoke NC State Web Platform, which builds upon the WordPress "Gutenberg" editor to simplify the creation and management of web content. The new ncsu.edu uses that same platform, with a few extra features.
Below, we'll walk you through some of the redesign changes — and show you where to find some of our community's most sought-after resources.
The Core Site Menu
The "hamburger" icon in the top left-hand corner opens the core site menu. This is where you'll find links to the pages that live within ncsu.edu, grouped into three categories.
The six pages in the "Discover" category are designed to serve prospective students — who make up the bulk of traffic to our site — and other users external to NC State.
Next, you'll find links to various topical pages under the headings "About," "Education," "Innovation" and "Community." These pages are designed to explain key aspects of the university to users from beyond campus. (A handful of links here go directly to some NC State subdomains outside the core site, and these are flagged with an external link icon.)
Last, you'll find links to the four audience pages that are tailored to existing members of the Wolfpack. This is where internal users can go to find the resources they use most, according to our data.
If ncsu.edu doesn't have what you need, the "NC State Resources" button at the bottom will take you to a list of many other destinations across the university's webspace.
The Search Menu
The magnifying glass icon in the top right-hand corner opens a combined search and resources menu.
The links in this menu were chosen because they're highly trafficked and highly useful for both internal and external users. This is the quickest way to reach the academic calendar, the campus directory, MyPack Portal, NC State News or University Libraries, among other common destinations.
If you can't find what you're looking for at a glance, you can enter a search query — or use the "More resources" button to browse a curated listing of popular destinations at NC State.
(For now, this new utility bar is exclusive to the ncsu.edu domain. While it may yet be added to other NC State websites, we want to ensure it's been thoroughly tested before talking to site owners about making a potential switch.)
The Homepage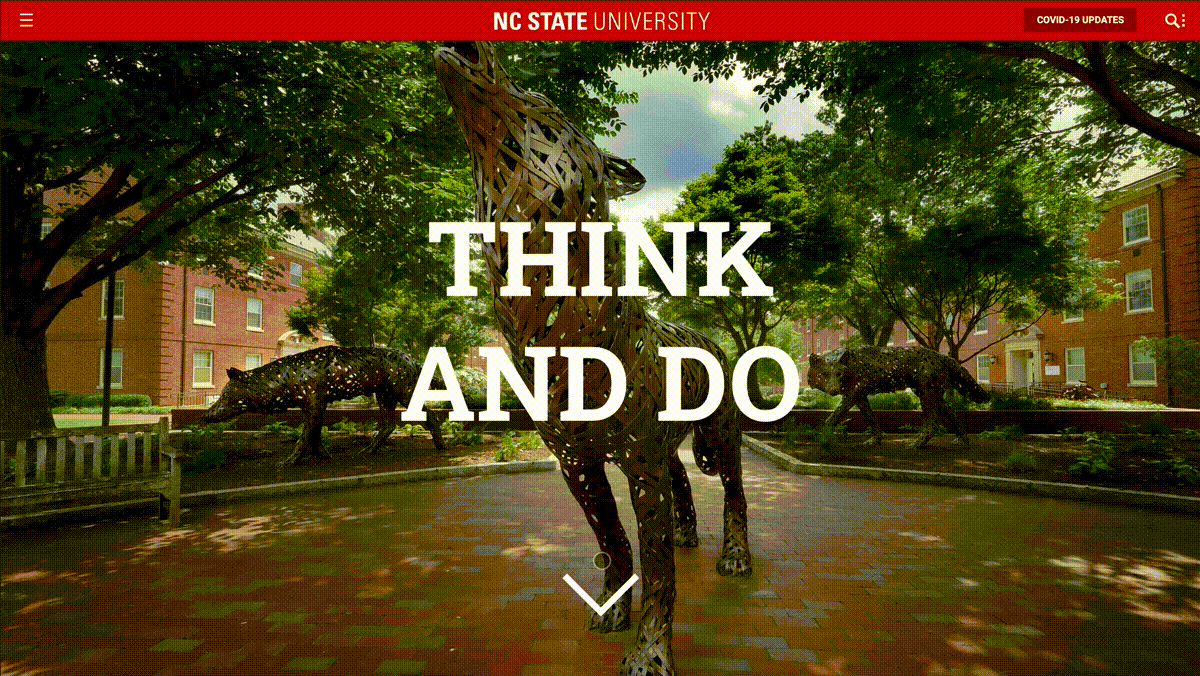 The front page of NC State is designed to share the good things we do — teaching, research, partnership, outreach — with the wider world. That includes current news stories, facts and rankings, Instagram posts and a sampling of some of the events taking place on campus. You can expect this content to change from week to week.
The Footer
At the bottom of every page within ncsu.edu, you'll find some essential university information — and additional ways to access the calendar, directory, MyPack Portal or University Libraries.
This area also links to the NC State Campus Map and our social media channels.
Mobile-First Design
All pages on the NC State core website are designed to work on any device and be responsive to your viewport. While our site menus may look a little different on your phone or tablet, they function just the same.
Give Your Feedback
The new ncsu.edu was designed and developed by an in-house team from University Communications and Marketing. We care about our users — the wider Wolfpack and those soon to join it — and we're open to your feedback.
Let us know your thoughts at [email protected].

link